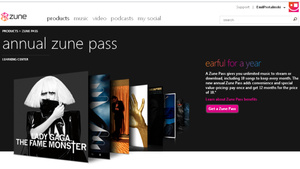 Microsoft
has begun offering an annual pay option for its
Zune Pass
, after over a year of only offering a monthly option.
The monthly pass was $15 per month but now subscribers can pay for one year upfront for $150.
Ars
asked Microsoft for comment:
"It went live yesterday in the US, UK, France, Italy and Spain. The monthly subscription is for $14.99 in the US and €9.99 or £8.99 in European markets. The annual Zune Pass subscription is the same monthly offer, at a discounted price of 12 months of music for the price of 10 months."

The updated Zune Pass subscription option comes right on the heels of the release of
Windows Phone 7
, which integrates the service.
A Microsoft Zune Pass gives you unlimited access to 10 million songs while you are subscribed whilst also getting to keep 10 songs as free downloads per month.