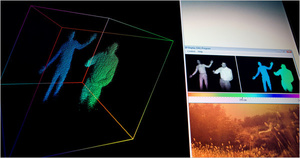 Microsoft
has confirmed that it is purchasing
Canesta
, a small 3D chip making company that specializes in gesture-recognition tech.
Canesta is best known for chips that, when coupled with digital cameras, give many devices a 3D effect, and a sense of depth perception (as pictured).
The Redmond giant did not disclose how much it paid for the chip maker.
Notably, the 3D tech used in the newly-launched
Kinect
motion control system was created by Canesta's rival
PrimeSense
.
"I'm excited to be way out in front and want to push the pedal on that,"
added CEO Steve Ballmer, when he was asked about company plans to advance gesture technology outside of just Kinect.
Analysts speculate Microsoft
will use the Canesta tech
to begin equipping PCs, HDTVs and Windows Phone 7 devices with gesture-recognition tech.