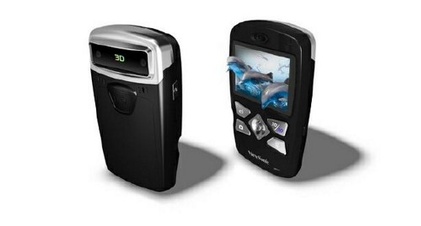 Viewsonic
has unveiled their new
3DV5
pocket-
camcorder
this week, giving consumers a chance to record film in 3D without the need for glasses.
The device has a 2.4 inch autosterescopic screen, similar to the one used in the upcoming
Nintendo 3DS
handheld. The 3DV5 also has an
HDMI
output for users who want to playback the recordings on 3D HDTVs.
Outside of its 3D aspects, the camcorder is not all that special, costing £150 and bringing just 10MB of internal memory. You will need to purchase an
SD
card to use the device.
The 3DV5 will record in
720p
HD
.
Says the company
:
"Everyone has watched 3D movies at the cinema, and lots of people are considering purchasing a 3D compatible display, whether a TV, monitor or projector. However, there is a lack of available 3D content, and people want to create 3D content that they will be able to watch for years to come."
"The ViewSonic 3DV5 makes it easy for anyone to create future-proof, high quality 3D home movies and also shoot in standard 2D. As well as being easy to use, the camcorder is also excellent value for money, and will make a great gift this Christmas,"
concluded James Coulson, European product marketing manager, ViewSonic.