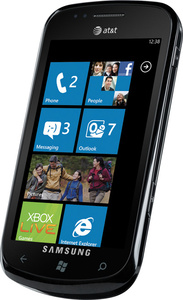 AT&T
has said today that
Windows Phone 7
devices like the
Samsung Focus
will need special
MicroSDHC
cards, as removable storage is not yet supported officially by the new mobile OS.
However,
Microsoft
is certifying certain cards that are set for release soon, each of which will have a "Certified for Windows Phone 7" sticker that means they can be used in WP7 devices.
The cards will each have "optimal performance" and current cards on the market do not qualify.
Because the Focus and other WP7 devices do not have expandable storage, you need to replace the on-board storage, which requires a full wipe of the device.
Users who try to replace the storage on their Focus are greeted by a
Stop!
message from AT&T, warning them that they might brick their device.