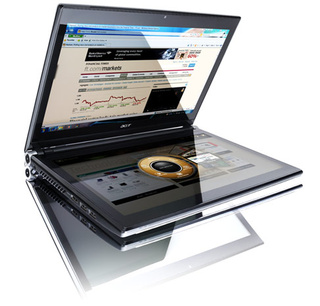 Acer
has unveiled
their latest
Iconia
notebook today, one that includes dual touchscreens, with no physical buttons necessary.
Each multi-touch display is 14.1-inches.
Additionally, the gadget has an
Intel
Core i5 processor, a minimum 320GB HDD, 4GB
RAM
and Windows 7 Home Premium.
Each display is LED-backlit, with an
HD
resolution
of 1366x768. Both displays also have Gorilla Glass protection, protecting from scratches and smudging.
Users can use both screens to display a single app, or display multiple apps on different screens. When you put both palms on the bottom screen, a virtual keypad immediately pops up.
A "Gesture Editor" allows you to create custom gesture controls, while "SocialJogger" tracks all you social networking activities in a single interface.
There is no word on price or release date.