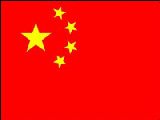 The Chinese government has announced that it will inspect computers owned by central and local government authorities for any pirated software that is being used.
The inspection is part of a new push by the Chinese government to tackle rampant software piracy in the country. The
Business Software Alliance (BSA)
estimated in 2009 that 79 percent of all software used on computers in the country was pirated.
Microsoft
also said it has filed a lawsuit against 10 companies in China for selling computers with pirated versions of its Windows operating system and other products pre-installed.
"Computers pre-installed with unauthorized software have always been a core problem for the software industry that must be resolved,"
said Microsoft China's intellectual property general manager,
Yu Weidong
, in a statement.
The U.S. company has been a major victim of piracy in the country but has been having some success using the Chinese legal system to fight back.
The Chinese government's fight agaisnt software piracy goes back years. In 2006, authorities issued a notice requiring government departments to only buy computers that have legitimate software pre-installed.
"They have taken these kinds of steps before. My impression is that this time it's more comprehensive,"
said
Christian Murck
, the president of the
American Chamber of Commerce in China
. He did say however that
the move wasn't transparent
since it was conducted by the government, within the government.