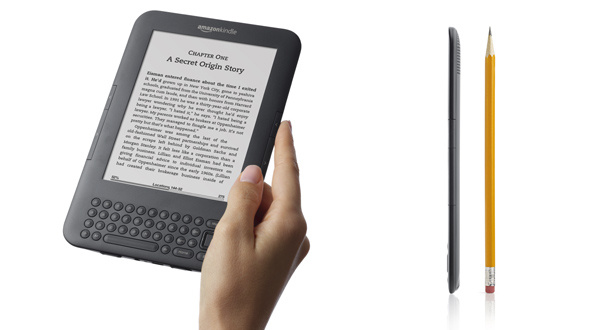 Although normally dead quiet on Kindle sales figures, Amazon has boasted today that they have "sold millions" of the latest generation e-readers during the first 73 days of this quarter, strong numbers considering the Christmas rush is still heating up.
In the past,
Amazon
had said little about sales figures, only claiming that the Kindle was the top selling item on the e-tailer's site, and its "fastest selling" item, ever.
Amazon CEO Jeff Bezos also made the bold claim that e-book sales will pass paperback sales by summer 2011, and surpass hardcover and paperback sales by 2012.
The giant online retailer has always said that the hardware sales are not as important as the e-book sales, and Amazon even makes Kindle apps for iOS, BlackBerry, Android, Macs and PCs.
Despite being the clear market leader, increased competition from
Apple
, Barnes & Noble and now Google has analysts believing a once 70-percent share will fall to under 40 within 2 years.
The latest Kindle Wi-Fi sells for $140.