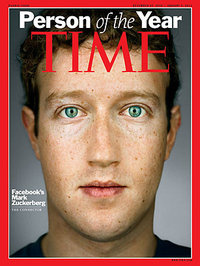 Time magazine has dubbed Facebook founder and CEO Mark Zuckerberg their 2010 Person of the Year 2010.
Says
Time
:
For connecting more than half a billion people and mapping the social relations among them; for creating a new system of exchanging information; and for changing how we all live our lives, Mark Elliot Zuckerberg is TIME's 2010 Person of the Year.
Zuckerberg
, who dropped out of Harvard in 2004 to start the service, owns 24 percent of
Facebook's
private shares, which should make him worth over $6 billion when the company goes public next year.
In response to the honor, Zuckerberg said (
via his FB page
):
Being named as TIME Person of the Year is a real honor and recognition of how our little team is building something that hundreds of millions of people want to use to make the world more open and connected. I'm happy to be a part of that.
The youngest billionaire in the world, at 26, Zuckerberg has already joined "Giving Pledge," the joint effort of Warren Buffett and Bill Gates to convince other billionaires to give away most of their wealth to charities.
"Giving Pledge" counts Michael Bloomberg, Ted Turner, George Lucas and Barry Diller amongst its roster.
Julian Assange,
the head of WikiLeaks, handily won the online vote, but came in second to Zuckerberg.