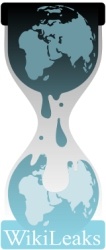 Bank of America has said this weekend that it too will decline process payments to WikiLeaks, which has angered countries around the world by releasing thousands of previously confidential U.S. diplomatic cables.
Says the bank:
"Bank of America joins in the actions previously announced by MasterCard, PayPal, Visa Europe and others and will not process transactions of any type that we have reason to believe are intended for WikiLeaks."
Early next year, WikiLeaks founder Julian Assange says they will release hard drives worth of documents relating to "unethical practices" at a major U.S. bank, which most believe will be Bank of America or Citigroup.
Assange is currently out on bail in the UK, and faces extradition on charges of sexual misconduct in Sweden.
The bank added (
via Reuters
):
"This decision is based upon our reasonable belief that WikiLeaks may be engaged in activities that are, among other things, inconsistent with our internal policies for processing payments."
After hearing of the news, WikiLeaks fought back, via Twitter, tweeting:
"We ask that all people who love freedom close out their accounts at Bank of America."

"Does your business do business with Bank of America? Our advice is to place your funds somewhere safer."