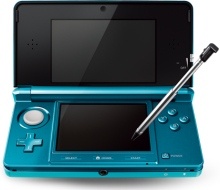 A Game Stop employee on
Neogaf
has posted that the giant retailer is taking pre-orders for the upcoming
Nintendo
3DS handheld, but only in brick-and-mortar locations.
Says the post:
Ok well I got the OK to tell people about this from my work, but we officially got word in that all US based Game Stop stores will be taking reserves on the 3DS starting on the 26th. Depending on the place holder price you will be required to drop a minimum of $25 on a reserve.

If your GS can't find it in their system the SKU is 020132
Nintendo has still not priced the device, but most believe a company event in mid-January will reveal the price for North American and European devices.
The 3DS will hit Japanese stores on February 26th, 2011, and then the US/European markets one month later.
In Japan the handheld will retail for ¥25,000 (about $300 USD).
The first 10 launch games for the system are: Legend of Zelda: Ocarina of Time 3D, Nintendogs + Cats, Pilotwings Resort, Pro Baseball Spirits, Professor Layton and the Mask of Miracle, Ridge
Racer
3D, Samurai
Warriors
Chronicle, Steel Diver, Super Monkey Ball, and Super Street Fighter IV: 3D Edition.