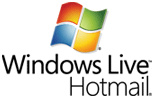 Microsoft
has been bombarded with reports to start the new year, each claiming that their old Hotmail messages have disappeared.
Some of the other reports claim that their inboxes have been automatically moved to the "deleted mail" folder, without user consent.
Windows Live support
has responded
by saying they are aware of the issue, and are currently working on a fix.
Hotmail/Live is the most used email service in the world, with 360 million users.
"At this point it appears to be a limited issue, and Microsoft is working with individual users who are impacted. We apologize for any inconvenience to our customers,"
says Microsoft spokeswoman Catherine Brooker.