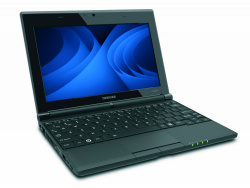 Toshiba's Digital Products Division has unveiled its newest netbooks for the Consumer Electronics Show (CES) in Las Vegas.
The new offerings include the all new mini NB505 netbook, and an update to the award-winning mini NB305 netbook. Toshiba has designed the new products with style and performance in mind, with the new mini NB505 topped with Toshiba's new rubberized EasyGrip Finish on the cover that makes it easier to carry, while also reducing fingerprints and a flat keyboard with Black textured finish on the inside.

It is available in Turquoise, Blue, Lime Green, Brown and Orange. Under the hood, it features an Intel Atom N455 processor, 1GB of DDR3 RAM and comes with up to a 250GB hard disk drive. The 2.9 pound mini NB505 is priced at $299.99.



"The role of netbooks is evolving in the marketplace. For casual around-the-house Internet surfing and e-mail, netbooks continue to provide convenience and Windows compatibility that people need at easily attainable price points," said Carl Pinto, vice president of product development, Toshiba America Information Systems, Digital Products Division.

"Our new best-in-class netbooks are designed to yet again exceed customer expectations with better performance, better styling and better convenience-driven features that define what a companion PC should be."

The updated mini NB305 netbook features a sophisticated and sturdy Aluminum cover and the new Intel Atom N550 dual-core processor. It comes with 1GB of DDR3 RAM and a 250GB hard disk drive. The new mini NB305 carries an MSRP of $375.99.



Both new netbooks will become available at major retailers or directly from toshibadirect.com from January 9, 2011.