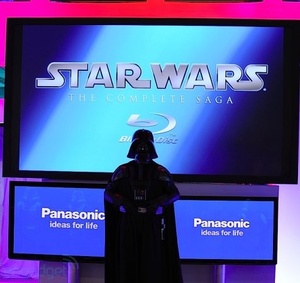 Fox and George Lucas have announced today that they will bring the highly-anticipated 'Star Wars' films to
Blu-ray
in September.
The movies will be available as three different sets.
'Star Wars: The Complete Saga" will include all six of the movies, along with 3 special features discs which have 30 hours of extensive special features, including deleted and alternate scenes.
The 'Prequel Trilogy' set will include Episodes I through III (The Phantom Menace, Attack of the Clones and Revenge of the Sith) and a special features disc while the 'Original Blu-ray Trilogy' will include Episodes IV-VI (1977's A New Hope, The Empire Strikes Backand Return of the Jedi).
Amazon is selling the Complete Saga for $90 on pre-order, but the MSRP is $140. Each individual set is $70 MSRP.
Says Fox (
via THR
):
The Star Wars Saga is the most anticipated Blu-ray collection since the launch of the high-def format. The epic franchise pioneered sound and visual presentation in theaters and is perfectly suited to do it again in the home, with a viewing experience only possible with Blu-ray.
(Pic via Engadget)