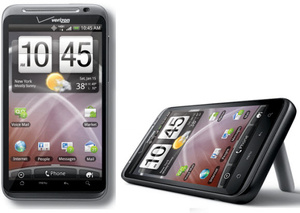 Verizon has announced the upcoming
HTC
Thunderbolt with LTE 4G support, a likely successor to the very popular HTC Incredible.
The smartphone has a large 4.3-inch Super LCD display, a 1GHz processor, and run on Android 2.2 with HTC Sense 2.0. The updated Sense has the new "Fast Boot" for quicker booting of the OS.
When connected to Verizon's LTE 4G, the carrier says users should expect down speeds of 5-12Mbps and up speeds of 2-5Mbps.
The device has Mobile Hotspot capability for sharing the 4G connection with up to 8 Wi-Fi devices, as well.
Additionally, the smartphone has an 8MP standard camera and a 1.3MP front-side camera, along with
Dolby
and SRS
surround sound
.
Skype
video conferencing is built right into Sense and the Thunderbolt has DLNA
streaming
multimedia support.
Says Jason Mackenzie, president of HTC Americas (
via Engadget
):
We are proud to not only be bringing one of the first 4G LTE Android smartphones to the Verizon Wireless network, but to offer people the unprecedented speed and ease of use that the HTC ThunderBolt provides to them. What makes 4G so compelling is not just technology, but what the technology allows people to do. With HTC ThunderBolt and the Verizon Wireless 4G LTE network, 4G is brought to life as people stay connected with friends, family and content faster than ever before possible.