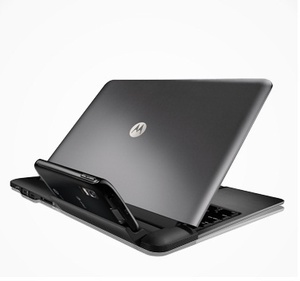 DigitalTrends
managed to get a really nice 9-minute video from a
Motorola
executive who was showing off the Motorola Atrix smartphone; which doubles as a full notebook computer.
The Atrix runs Android 2.2 on a powerful Nvidia Tegra 2 1GHz AP20H dual-core processor, alongside 1GB of
RAM
, 16GB of internal memory, a huge 1930 mAh battery, and a 4-inch multi-touch screen with Gorilla Glass.
Additionally, the smartphone has a 5MP standard camera and a
VGA
front-side camera and AT&T 4G LTE support.
Unique to the device is a biometric fingerprint reader, which can be used to literally block anyone who isn't you from turning on the device.
The notebook (Atrix dock) is incredibly thin and has a stated 10-hour battery life.
When connected, the notebook runs off the Atrix phone, allowing owners to use a Linux-based OS, or just run the phone's features in full-screen (15-inch) mode.
For anyone interested, the video is a bit long, but very comprehensive. The whole design is very innovative.