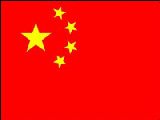 China has said it will do more to combat
"rampant"
violation of intellectual property rights throughout the country.
Since the government announced a crackdown on the activity in November, it has arrested over 4,000 individuals. It now says it will seek to impose tougher punishments to send a message. Ministry of Public Security's Economic Crimes Investigation Bureau director,
Gao Feng
, said his agency had uncovered over 2,000 cases, with a financial value of 2.3 billion yuan, or $384 million.
"On one hand they demonstrate the achievements we've made in cracking down on the violation of IPR, on the other hand it also indicates that IPR violation is still quite rampant and frequent,"
Gao said
.
"So we want to introduce heavier punishments."
The topic of intellectual property is likely to come up in a meeting between U.S. President Barack Obama and Chinese leader Hu Jintao next week.
The
International Intellectual Property Alliance
estimates U.S. trade losses in China due to piracy hit $3.5 billion in 2009.