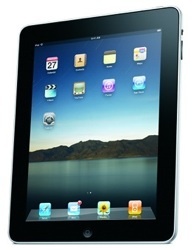 The recent
rumors from Boy Genius Report
's
Apple
sources say that the Cupertino-based company will remove the home button from their future iPad models. It does sound like a strange move, but the iOS developer release for
iPad
suggests that there will be support for multitouch gestures that allows navigation to the home screen and other views.
According to the sources, Apple will be removing the home button from iPhone as well. They have already been testing the buttonless handsets that are likely to arrive in stores next summer.
In addition to button removal,
9 to 5 Mac talks
about a new camera. The iOS 4.3 developer release hints about a new camera with four images seen below. The shutter images are sized at 1024 x 768 pixels, which also suggests that the iPad 2 will have the same resolution display as its predecessor.