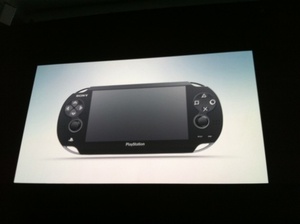 After years of rumor and speculation,
Sony
has finally unveiled the PSP2, for now dubbed the 'New Generation Portable (NGP).'
For controls, the handheld adds dual micro-analog sticks, giving gamers a feature they begged for on the original
PSP
.
The device has a massive 5-inch multi-touch OLED screen with 960×544 resolution, a multi-touch panel on the back and will run on a quad-core ARM cortex processor.
Sony has added tilt-sensitive SIXAXIS controls, standard and front-side cameras,
GPS
, an electric compass, Wi-Fi and 3G support.
The handheld will have a new UI dubbed "Live Area," which is used to launch games, the online app/game store, view trophies, view news and send IMs to friends with NGPs.
Using the new feature "Near," gamers, when connected to the Internet, will be shown a list of the most popular games in the area, and what other NGP gamers are playing at that time, explains
Siliconera
.
Gone is
UMD
, and new games will be sold on memory cards. Sony has promised Hot Shots Golf, Gravity Daze,
Killzone
, Reality Fighters, Smart As, Broken, LBP, Little Deviants, WipEout, Resistance, and Uncharted, so far.
The company is also introducing PlayStation Suite (PS Suite), meaning game content created for Android can also be played on the NGP.
There was no word on price but the company said to expect the handheld to be in stores by the holiday season.
(Pics via AV)