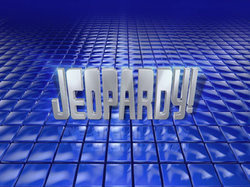 IBM's supercomputer "Watson," set to take on human contestants on "Jeopardy" this month, has beaten its two competitors in a quick practice round.
Watson will take on all-time champions Ken Jennings and Brad Rutter.
In 2005, Ken Jennings won 74 straight games en route to $2.5 million in earnings. Rutter did not win as many games, but took home $3.2 million, the highest ever.
Watson will take on Rutter and Jennings over a three-day period and the winner will receive $1 million. Second place gets $300,000 and third gets $200,000. IBM will donate all their winnings to charity and Jennings and Rutter will donate half.
IBM says the supercomputer will not have Internet access, but is loaded with a massive database "covering topics from history to entertainment." The computer can even "differentiate between literal and metaphorical expressions and understand puns and slang."
In the practice round
, Watson beat out Jennings and Rutter, taking $4400 in the round to Jennings $3400 and Rutter's $1200.
The real competition starts on February 14th.