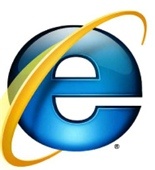 Microsoft
has finally released their Internet Explorer 9 Release Candidate, meaning a final launch is coming in the near future.
The completely overhauled IE9 saw its first beta in September 2010, and includes a full revamp of the user interface, hardware acceleration, and updated compatibility for HTML5.
Microsoft's new RC is ready-to-ship code, and there are only a few bugs expected to be left.
From the betas, the RC offers improved JavaScript and includes all the 2,000 changes made since the first beta.
As of the RC, Microsoft claims their IE9 JavaScript engine is the fastest of all current browsers (based on SunSpider benchmarks).
Security is also a big factor in the browser, with an improved ActiveX filter and SmartScreen malware protection in the download manager.
RC for those interested:
http://windows.microsoft.com/ie9