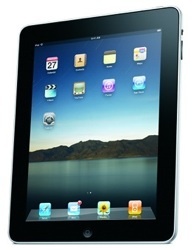 Despite a rumor circulating this week that the iPad 2 will be delayed until June, new sources say
Apple
will actually launch the updated tablet next week, March 2nd.
Following their release of the original iPad in April 2010, the iPad 2 will hit stores around the same time this year.
Apple will hold a special event on the 2nd to show off the new device,
adds the source
.
The initial rumor of a delay came via Taiwan, where a brokerage firm said manufacturer Hon Hai was facing production bottlenecks.
2010 was the year of the iPad, with the tablet crushing all sales estimates on route to 15 million units sold. Apple is expected to sell 40 million iPad/iPad 2 units this year even as it faces increased competition from Android, WebOS and BlackBerry tablets, all of which will make their true debuts this year.
The rumored iPad 2 will include dual-cameras, a dual-core processor, better
resolution
, and have a slimmer form factor.
Apple and Hon Hai have declined comment on iPad 2 production.