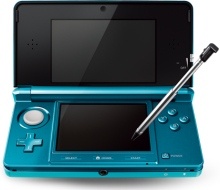 Confirming previously unconfirmed lists,
Nintendo
has revealed all 18 launch titles for the upcoming 3DS handheld.
The device hits Japan this week and the U.S. on March 27th.
Says Nintendo of America President Reggie Fils-Aime:
Seeing 3D visuals without the need for special glasses is just one aspect of Nintendo 3DS. The real test of any system is whether the games and applications draw you in and keep you engaged. Through the launch window and beyond, Nintendo 3DS delivers.
The device will sell for $250 in Cosmos Black and Aqua Blue bundles that include a free charging dock and a 2GB
SD
card. Each 3DS comes with the games Face Raiders and AR Games pre-installed.
Three of the titles will be Nintendo-published, and all titles have an MSRP of $39.99:
- Pilotwings Resort
- Steel Diver
- nintendogs + cats
And third party published:
- Super Street Fighter IV 3D Edition from CAPCOM
- The Sims 3 from EA
- Madden NFL Football from EA SPORTS
- Pro Evolution Soccer 2011 3D from Konami Digital Entertainment, Inc.
- LEGO Star Wars III: The Clone Wars from LucasArts
- RIDGE RACER 3D from NAMCO BANDAI Games America Inc.
- Super Monkey Ball 3D from SEGA
- BUST-A-MOVE UNIVERSE from Square-Enix, Inc.
- SAMURAI WARRIORS: Chronicles from TECMO KOEI AMERICA Corp.
- Asphalt 3D from UBISOFT
- Combat of Giants: Dinosaurs 3D from UBISOFT
- Rayman 3D from UBISOFT
- Tom Clancy's Ghost Recon Shadow Wars from UBISOFT