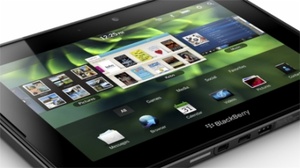 RIM has announced today that the long-awaited BlackBerry PlayBook tablet will go on sale on April 19th at 20,000 retail stores in the U.S and Canada.
Matching the iPad 2's base price, the PlayBook
will also sell for as low as $500
.
The tablet will be available in Best Buy, Best Buy Mobile, Telus, AT&T, Sprint, Verizon, Bell, Rogers, Staples and Future Shop stores.
Similar to its competition, the PlayBook will have 3 Wi-Fi-only models, 16/32/64GB, priced at $499/599/699, respectively.
RIM's PlayBook will have a 7-inch LCD screen with 1024x600
resolution
, a dual-core 1GHz processor, a 5MP standard camera and a 3MP front-facing camera and run on a new QNX-based operating system.
Outside of the Wi-Fi-only models, WiMax 4G, LTE and HSPA+ models will be available, as well, but those do not have a set time table for release.