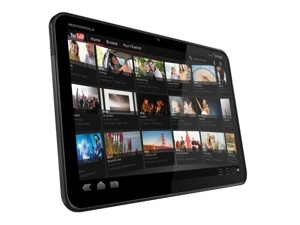 Motorola
Mobility has launched the Wi-Fi-only model of the Xoom tablet this weekend, for $599, giving a users with no need for 3G/4G a chance to get the device for cheaper.
The device is available at stores like Best Buy and Staples, and online via Amazon and other e-tailers.
Unlike its more expensive 3G counterpart, the Xoom Wi-Fi will not require a data contract.
The powerful tablet has 10.1-inch display, 1280x800
resolution
, a Nvidia Tegra 2 1GHz dual-core processor,
1GB DDR2
RAM
, 32GB onboard memory (expendable via
SD
), a 5MP dual-LED flash standard camera and a 2MP front-side camera for video conferencing.
Although unconfirmed, rumor has it that Sam's Club will sell the model at a highly discounted $539 price point.