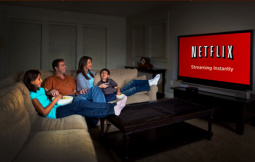 Netflix has confirmed today that all Star Trek series will be available for
streaming
starting in July.
The deal with CBS was first announced in February and includes other library hits like Frasier and Twin Peaks.
For fans of the show, the available series will be Star Trek, Star Trek: The Next Generation, Star Trek: Deep Space Nine, Star Trek: Voyager, and Star Trek: Enterprise.
Deep Space 9 will launch later than the rest, on October 1st.
Star Trek and Enterprise will be available in
HD
.
The deal is U.S. only and will last for two years.
Voyager fans will likely be the happiest of the bunch, as the series has never been available digitally, not even through
iTunes
, explains
TrekMovie.com
.