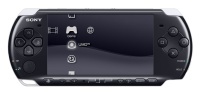 Somewhat surprisingly, the aged
PSP
handheld has beat out the new
Nintendo 3DS
for a second consecutive week in Japanese sales.
MediaCreate
says the
PSP
moved 35,478 units for the week ended April 10th, followed by the
3DS
at 32,910 units.
If adding all iterations of the
DS
,
Nintendo
won handily with the
DSi
LL and
DSi
selling 8,386 and 8,035 units, respectively.
The two-week boost in PSP sales has been attributed to the release of Final Fantasy IV: Complete Collection, which continues to be a strong seller for the PSP.
Sony
will be releasing its new NGP (PSP2) later this year boasting incredible specs like dual micro-analog sticks, a 5-inch multi-touch OLED screen with 960×544
resolution
, a multi-touch panel on the back and a quad-core ARM cortex processor.
The company has also added tilt-sensitive SIXAXIS controls, standard and front-side cameras,
GPS
, an electric compass, Wi-Fi and 3G support, and access to Android gaming.