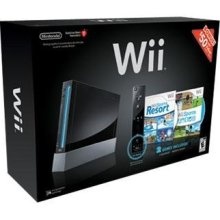 Following Best Buy's drop last week, most other major retailers have also dropped the price of the
Nintendo Wii
to $170 this week.
The price drop lends more credibility to the rumor that
Nintendo
is ready to unveil the
Wii
2 at this June's E3 event, with a 2012 release date.
Target, Amazon, Wal-Mart and GameStop among other retailers now show the $169.99 price tag on the Wii bundle.
The white and black colorway bundles, which each include Wii MotionPlus Remote, a Wii Nunchuck Controller, "
Wii Sports
," and "
Wii Sports Resort
" have seen the price cut while the special edition red colorway remains at $200.
A couple retailers have also dropped the price on other special Wii bundles, best idea is to check each respective site.