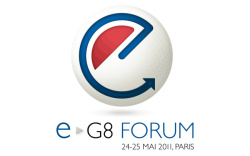 Two-day forum in Paris highlights rift in philosophy between tech giants and policy makers.
Facebook
founder and CEO
Mark Zuckerberg
, and
Google Inc
. Chairman
Eric Schmidt
used the e-G8 forum in Paris to warn governments to be very careful when it comes to regulations and restrictions imposed on the Internet.
Zuckerberg received a warm reception at e-G8, with comments about how Facebook was used as a tool in the creation and rise of democracy movements in the Arab world.
"People tell me on the one hand 'it's great you played such a big role in the Arab spring, but it's also kind of scary because you enable all this sharing and collect information on people',"
Zuckerberg said
.
"But it's hard to have one without the other .... You can't isolate some things you like about the Internet and control other things that you don't."
Eric Schmidt had also put his views forward on a number of occasions. He warned that technology moves forward faster than any government, and so it would be unwise to legislate quickly without understanding the possible consequences of the actions.
He also squared off with
Vivendi
CEO
Jeah Bernard Levy
over copyright and the Internet.
"I don't think you can compromise on copyright. It's the right of the artist to decide how his work is used,"
Levy commented at the final panel intended to finalize a message for the G8 leaders.
Schmidt didn't agree with the statement.
"I would be opposed to any absolute statements. Copyright is not an absolute right; it is a shared right. Copyright in one form or another is a balance of interests,"
he said.