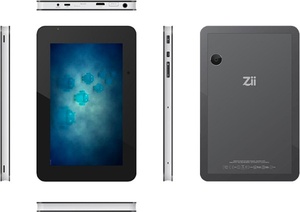 ZiiLABS has showed off their new line of Jaguar Honeycomb tablets for OEMs this week, introducing the powerful "energy efficient" Android devices at Computex 2011.
The company, owned by
Creative
, uses their own processors, specifically the ZiiLABS ZMS-20 and ZMS-40 StemCell Processors.
Says
the company:
As consumer demand for a wide-range of smarter, more connected tablets increases, so do the OEMs' needs to innovate while also shrinking their time-to-market. The JAGUAR platform combines our deep understanding and experience working on consumer devices and tablets with our ZMS processors, reference platforms, software and certification know-how to deliver a state-of-the-art platform that minimizes the complexities of introducing next-generation tablets.

Timing is everything and a frenzied land-grab is taking place in the tablet computing market. Android 3.X and ZMS-20 are designed and engineered specifically for this new and exciting tablet market where growth is expected to approach 100 million next year. The JAGUAR platforms based on ZiiLABS' ZMS-20 and ZMS-40 processors push performances to a new level that the world has never seen before and OEMs and ODMs can leverage this with JAGUAR to quickly stake a sizeable claim in this explosive market.
The ZiiLABS ZMS-20 features 48 StemCell media processing cores and dual 1.5GHz ARM Cortex-A9 MPCores. The ZMS-40 uses quad ARM-Cortex-A9.
Jaguars feature:
* Powered by ZiiLABS ZMS-20 and ZMS-40
o Dual and Quad Core 1.5GHz ARM Cortex A9 cores with Neon
o 48 and 96 core floating point StemCell media processors
* Robust Android BSP and Middleware
* Designed for Android 3.0+ Compliance
* Modular Motherboard Design to enable OEM/ODM Customization
* Wide-angle 7"(1024x600) and 10" (1280x800) LCD options
* Capacitive and Resistive LCD touch options
* Up to 2GB high-speed 64-bit memory
o High performance and low-power LPDDR2-800 for super high memory bandwidth of 6.4GBytes per second
o DDR2/DDR3 for low cost
* 5MP rear and HD front facing camera as standard
* Wi-Fi b/g/n, 3G/4G/WiMax and Bluetooth 2.1+EDR
* GPS, accelerometer, digital compass and gyroscope
* Stereo speakers and dual Microphone array
* Up to 64GB internal storage
* USB 2.0 port
* SDHC Card slot
* Extended battery life with robust dynamic power management
* Instantaneous On feature