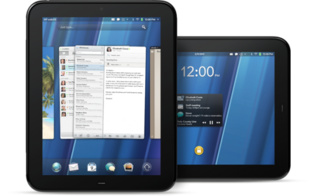 Although unconfirmed, the latest rumor surfacing is that HP's TouchPad tablet will be released on June 22nd.
The date comes via Synnex, and IT equipment company, who has the tablet listed with a 6/22 date.
HP's base 16GB model will sell for $500 and the 32GB for $600.
The company has confirmed a "late June" launch so the date is certainly plausible.
TouchPads will have a 9.7-inch display with 1024x768
resolution
,
WebOS
run a dual-core 1.2Ghz Snapdragon processor, Beats Audio technology, stereo speakers, a 1.3MP front-side camera, Wi-Fi 802.11b/g/n and Bluetooth 2.1+EDR.
HP's tablet will weigh 1.6 pounds and feature a gyro, accelerometer, and compass and full Flash support, just like Android.
Additionally, the tablet's virtual keypad will have a full number row, come with QuickOffice installed, Google Docs support,
Dropbox
, Box.net, VPN and wireless printing support.