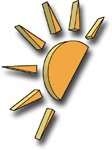 Damn, somehow it seems that it was only yesterday when we
launched our site
, but in fact, it has been 12 years since that day. Twelve years is a long time, but in "Internet time", it feels like an eternity --
Facebook
, for example, wasn't born until 2004
(and made its breakthrough years later)
,
Google
became the most popular search engine 2-3 years after our site's launch, etc.
Of course, our site has gone through tons of changes during all these years, too, but the basic set up is still the same; we aim to provide good quality tech news, along with tech forums and tons of other stuff that should help the average Joe to get a grasp of things like video editing, console technology and more.
The past year has been quite unusual for us, as our site
hasn't
gone through any dramatic changes recently. Instead, we've focused on making the site more robust, to improve usability, etc. Biggest changes for our company have actually involved "non-English-and-non-Finnish" properties of ours. In February, our
Dutch site
went properly live, when
Plankje
joined our ranks and started working for the service. Furthermore, we launched a localized version
(courtesy of our licensing deal with Bestofmedia)
of
Tom's Hardware in Finland
.
For the upcoming year, we plan to make quite big changes to our server set up and hope that those changes will boost the site's usability and reliability. Furthermore, we plan to launch localized versions of Tom's Hardware in other Nordic countries and hope to expand AfterDawn's own brand to new markets as well.
Anyway, it is time for me to join my colleagues here in Finland for few drinks :-) As usual, I'd like to thank all of our staff members, moderators and users for keeping this site alive and kicking for all these years. Thank you.
-Petteri Pyyny, CEO
AfterDawn Oy