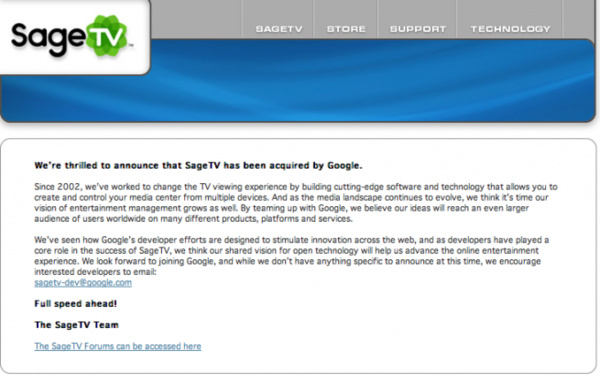 Buying the company for an undisclosed amount, Google has confirmed it has purchased
DVR
and CE Extender company SageTV, which will be immediately integrated into GoogleTV.
SageTV's digital recording software allows users to run media centers for video/audio/picture playback and "its Placeshifter software lets users watch TV on any device with a high-speed Internet connection."
Reads the site of the acquired company:
Since 2002, we've worked to change the TV viewing experience by building cutting-edge software and technology that allows you to create and control your media center from multiple devices. And as the media landscape continues to evolve, we think it's time our vision of entertainment management grows as well. By teaming up with Google, we believe our ideas will reach an even larger audience of users worldwide on many different products, platforms and services.
SageTV has shut down its site, minus the splash page talking about the acquisition, but the founders of the company
said
all current SageTV software and
set-top box
owners will have nothing to worry about in terms of ongoing support for their products.