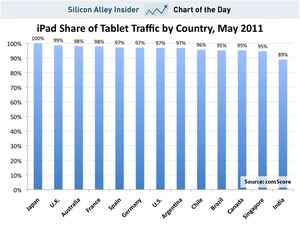 According to the latest figures from comScore, the
Apple
iPad remains the only relevant tablet, accounting for 99.3 percent of all tablet traffic in the world.
The figures also show Android with a measly 0.6 percent share of traffic and the RIM PlayBook at the remaining 0.1.
Acer
,
Motorola
, RIM and
Samsung
have all downgraded their tablet shipment expectations for the year while Apple sold 4.69 million tablets in the last quarter, alone.
Apple may face increasing competition, however, when
HP
releases their TouchPad, running on
webOS
, later this month, and
Microsoft
begins rolling out Windows 8 tablets next year.
For now, it appears that the iPad is the only tablet in the world that really matters.
(Pic via BI)