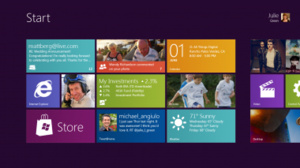 The company's stock sure seems to believe it.
ZDnet
is reporting that
Microsoft
may be pushing up its
Windows 8
timetable, with an
RTM
for April 2012, at least a few months earlier than anticipated.
The original plan was for Microsoft to RTM Windows 8 in the early Q3 2012, after betas and RCs. Additionally, Windows 8 for x86, Windows 8 for ARM and Windows 8 Server were also supposed to see similar release dates.
Citing trusted sources, it appears that Microsoft is making a lot of headway and can actually have all versions ready by April 2012.
A full beta will be released in September, in time for the Build conference, with a final RC available for testing in January.
Microsoft's Windows 8 will be optimized for tablets and touch interfaces and include built-in integration with
Skype
, Zune, Xbox Live and other Microsoft assets.
More information (plus video) here:
Microsoft shows off Windows 8