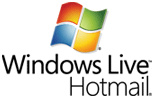 Microsoft
will soon change its Hotmail password policy, banning common passwords like "password."
Outside of blocking passwords like "password" and "123456," Microsoft will also block common terms like "ilovecats."
For now,
the new policy
will only be for new accounts but will likely extend to all existing accounts in the future.
Additionally, Hotmail will add a new feature that allows you to report if your friend's account has been hacked (if say, perhaps they send you spam). Their account will then be blocked to stop the hacker from using and your friend will go through an account recovery process to regain access to the account.
For more information on passwords, read our report from February:
How secure is your password?