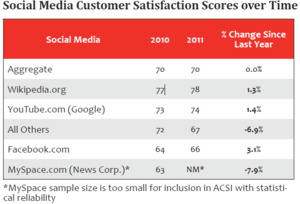 Social networking behemoth Facebook is severely lagging in customer satisfaction, says the 2011 American Customer Satisfaction Index E-Business Report produced by ForeSee Results (
via Cnet
).
The network was last in the report which analyzed how users feel about news sites, search engines, and social networks.
Facebook got a 66/100, the lowest of all companies measured.
Says Facebook of the report:
We take user feedback seriously, and strive to create a simple, fast, and innovative service that enables people to connect with their friends in a safe environment. More than half of our users visit Facebook every day, and we're constantly enhancing our products to offer people the best possible experience. Indeed, a report published last month by the Pew Internet and American Life Project highlighted the positive impact Facebook has had in people's lives.
Social Media in general scored poorly, only ahead of airline and newspapers.
The full results are here:
Free annual ACSI E-Business report