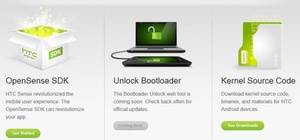 HTC
has started HTCDev.com, allowing those who like to tinker with their devices an opportunity to do so more easily.
The site gives access to the OpenSense SDK and access to the kernel source repository.
Using the SDK will give developers a chance to take adavantage of the popular HTC Sense API, as well as any add-on, including the stylus pen for the HTC Flyer tablet.
Probably most welcome to developers, is the bootloader unlock web tool.
HTC
has said
all future phones will come with unlocked bootloaders, starting with the
Sensation
and
EVO 3D
.