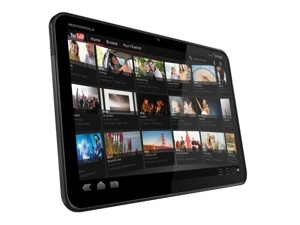 Court documents indicate iPad-maker is targeting another rival tablet in the EU.
Apple
has a lot of patent warfare history with
Motorola
. In the United States, there are four ongoing federal lawsuits between the pair, and two investigations being carried out by the
U.S. International Trade Commission (ITC)
. In total, over 40 patents are part of the disputes.
Having scored a victory against
Samsung Electronics
in Europe by getting a German court to ban the import and sale of
Galaxy
tablet PCs, it has emerged that Apple is also targeting Motorola's
Xoom
tablet PC, launched in February, in Europe.
Apple claims that the Xoom tablet
infringes its registered EU Community Design
for the iPad tablet. In its complaint filed in the German court (against Samsung), Apple also said it filed a complaint against a company called
JAY-tech
for the same reason, and has obtained a preliminary injunction against it.
It's not clear if Apple has requested an injunction against the import and sale of the Xoom, similar to the one granted against the Samsung Galaxy Tab, yet.