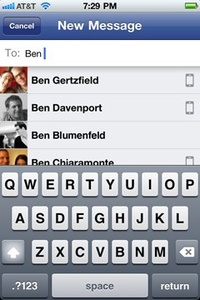 Facebook has announced the launch of "Facebook Messenger," a standalone app for
iOS
and Android.
Messenger will focus on chat and messaging, give users a chance to message FB friends directly, without needing to open Facebook and navigate the site.
Additionally, the app will deliver the messages via notifications or texts, so your FB buddies are likely to see it more promptly.
You can create group convos, as well, notes FB.
Finally, the company says:
The Messenger app is an extension of Facebook messages, so all your conversations are in one place, including your texts, chats, emails and messages. Whether you're on your phone or on the web, you can see the full history of all your messages.
The apps are free for Android devices and all iOS devices.