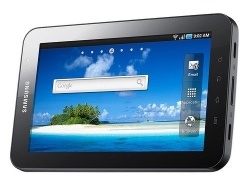 Temporary ban affects most of European Union.
A German court has issued a temporary injunction banning
Samsung Electronics
from selling its
Galaxy Tablet
in the European Union. The court sided with
Apple Inc.
, which has accused Samsung of slavishly cloning the iPhone and iPad products in its Android-packing smartphones and flagship tablet.
Products already distributed prior to the court order on August 9 may still be sold, with retailers saying they have received no legal instruction to remove stock. Samsung does not expect the injunction to have an immediate impact on EU sales.
The decision hit Samsung a week after the company was forced to delay its Australian launch of the Galaxy tablet following another lawsuit from Apple alleging patent infringement.
"It's no coincidence that Samsung's latest products look a lot like the iPhone and iPad, from the shape of the hardware to the user interface and even the packaging,"
said
Apple's London-based spokesman
Adam Howorth
.
"This kind of blatant copying is wrong, and we need to protect Apple's intellectual property when companies steal our ideas."
Samsung denies Apple's accusations, and has said it will defend its position rigorously. The company will launch a slightly modified version of the Galaxy tablet in Australia next month, and will file an objection to the German decision immediately.