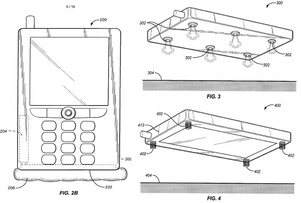 Amazon CEO Jeff Bezos has allegedly filed for a patent that would bring an "airbag"-type system to smartphones and other mobile devices.
The patent application, from last February, shows a system where the phone detects it is being dropped and then deploys a damage protection system, similar to airbags in cars.
Reads the patent application (
via PCW
):
While the size and weight of portable devices make them convenient to carry around, these characteristics often make them more susceptible to damage and loss. With the number of cellular phones in use exceeding several billion and repairs typically exceeding $25, the costs of damage and loss of cellular phones amounts to billions of dollars per year.
There are a few different damage protection systems noted, with one being airbags, a second being springs, and finally "a small explosion of air."