Utah-based company Millenniata has made a bold claim today, stating that their new M-DISC discs will last for the next millennium.
Millenniata says standard DVDs and
Blu-ray
Discs only last between 3-5 years before the dyes begin to degrade and data begins to get lost.
The M-DISC, on the other hand, has "actual pits are burned into the recording medium by a laser." M-DISCS are still readable by all
DVD
drives.

As you can tell from the picture above (via
Register
), M-DISCS have the same base but are less susceptible to corruption thanks to an "inorganic and synthetic material" data layer.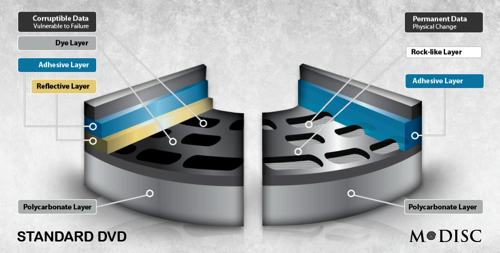 M-READY drives also engrave the pits in the surface of the disc, for a rock-like surface.
Furthermore, the discs will have somewhere in the 25-50GB range for capacity, well above standard DVDs. The company has partnered with
LG
, who will release a Super-Multi Drive that can read/write M-DISCS, Blu-ray and DVD. No word on price, yet.
You can read more the technical aspects of the disc here:
Accelerated Life Cycle Comparison of Millenniata Archival DVD