High capacity SSD brings Ultra-fast SATA Revision 3.0 interface.
Samsung
announced its new
PM830 SSDs
, touting the Serial ATA Revision 3.0 interface, on Wednesday. SATA 3.0 offers data transmissions at 6 gigabits per second (6Gb/s). The new SSD is available in capacities up to 512GB.
Sample production of the SATA 6Gb/s 512GB SSDs began in May, with volume production initiated earlier this month. The new drives are expected to replace SATA 3Gb/s-based SSDs by year-end.
"Samsung's new line up of advanced SSDs will raise the performance bar to the next level for ultra-slim notebooks and tablets and accelerate growth of the market for high-performance SSDs,"
said
Wanhoon Hong
, executive vice president, memory sales & marketing, Device Solutions, Samsung Electronics.
"The industry is expected to quickly embrace SATA 6Gb/s-based SSDs, which also will help increase market interest in 256GB and higher densities significantly."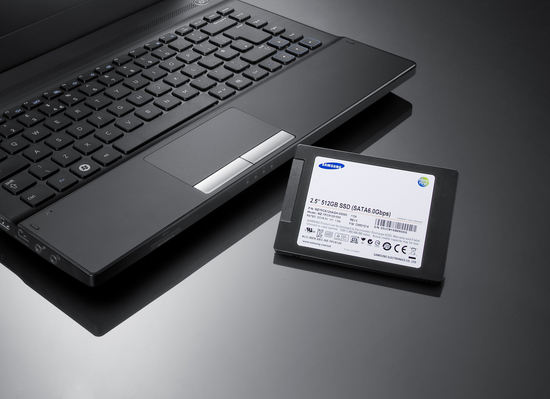 The 512GB SSD uses Samsung's 20nm-class 32Gigabit multi-level cell (MLC) NAND memory chip incorporating the toggle DDR interface. The new SSD doubles the performance of a SATA 3Gb/s drive, with sequential read speeds of 500 megabytes per second (MB/s) and sequential write speeds of 350MB/s.
For the security conscious among us, the drive uses an AES 256-bit encryption algorithm to protect personal or corporate data from unauthorized access. Samsung's SATA 6Gb/s SSDs are available in 512GB, 256GB and 128GB densities, intended for use in premium notebooks and tablets.