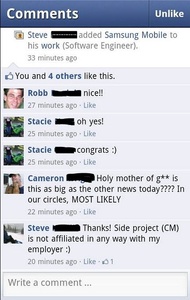 Steve Kondik, aka 'Cyanogen' has been hired by
Samsung
Mobile.
Hired as a software engineer, the developer says the new job will not affect CyanogenMod and it is not affiliated in any way with Samsung.
CyanogenMod is a custom ROM for Android devices built from scratch from the open source Android.
The ROM is preferred by users who don't want UI overlays like "MotoBLUR" and have rooted their devices.
It should be interesting to see if Cyanogen eventually makes its way to a retail phone, with no root necessary.
(Pic via
Phan)