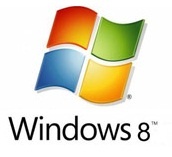 If you have ever gotten frustrated with the file transfer dialog in Windows, you should be happy to find out it is getting some long overdue improvements in Windows 8.
The dialog which appears when you copy or move files is arguably one of the least useful parts of Windows. It estimates time remaining for a transfer operation which is completely unreliable. On top of that, if you start multiple move or copy operations each one opens a separate dialog.
Perhaps worst of all, there is no pause option. If you want to temporarily stop a transfer and then resume where you left off, you are out of luck.
The new dialog for Windows 8, which was revealed
by Microsoft's Steven Sinofsky
, looks to address all those issues.
The basic dialog will combine all ongoing file copy or move operations in a single window, adding pause and resume buttons for each.
Rather than predicting how much time is remaining, which often varies from one second to another in the current dialog, it simply lists the completion percentage.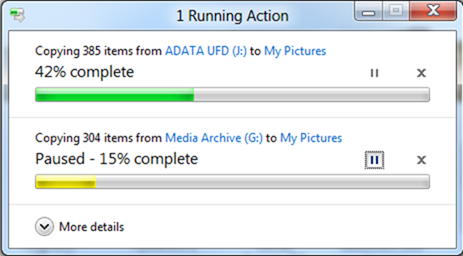 Using the More details button, you will be able to get those estimates, as well as transfer speed and how many items (files or folders) remain to be moved or copied.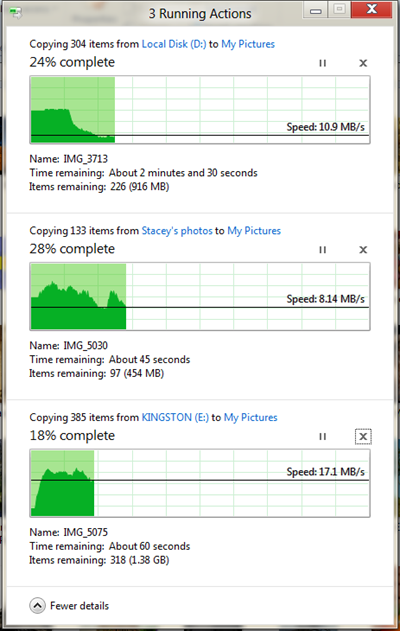 Finally, there will be improvements to handling conflicts between source and destination filenames. In Windows 7 you already have the option to rename files which duplicate filenames in the destination folder.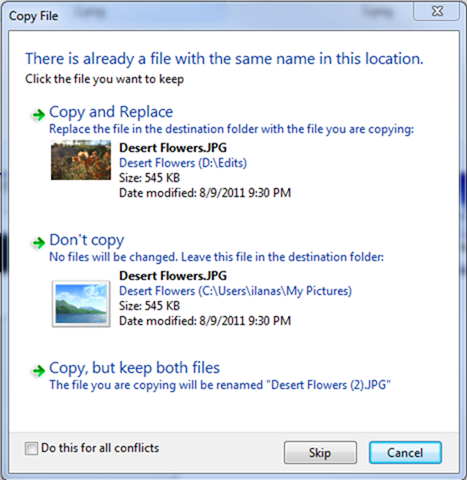 Unfortunately those options can't be conveniently set before Windows starts writing the files to the new location. If, for example, you are copying 500 pictures, you might have to sit and watch the entire process to skip a few duplicates.
In Windows 8 you will be able to specify how to handle each conflict individually when the process begins.