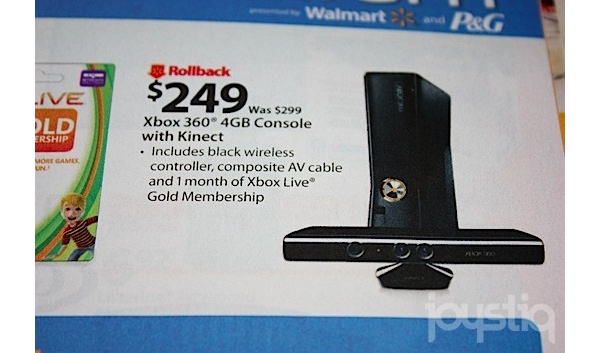 Joystiq
posted a picture earlier in which Wal-Mart had discounted the price of the 4GB Xbox 360
Kinect
bundle.
The picture led to speculation that
Microsoft
would do an across-the-board price cut on their consoles following Sony's recent price cut on the PlayStation 3.
For the week beginning August 28th, Wal-Mart is slashing the price $50 to $249, in-line with the PS3 (non-bundled).
Microsoft has responded to the price cut, saying:
Walmart made an independent decision to implement this temporary price cut. We've made no announcements about price drops, and do not discuss our pricing plans in advance. Xbox is the number-one selling console in the U.S. for 13 of the past 14 months, and is showing record growth. With an incredible line-up of games and entertainment, we're expecting the biggest year in Xbox history as the best-selling console worldwide.