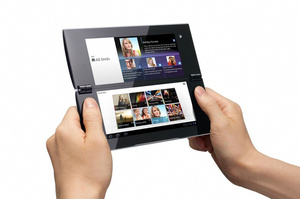 Last week, the tablet formerly known as S1 was given its official name, the "Tablet S."
Set for launch in September, the device will run on Honeycomb 3.1 and support an upgrade to Android 4.0 Ice Cream Sandwich. The tablet has a 9.4-inch screen, runs on a Tegra 2 processor and is the first tablet to have PlayStation certification. The device will have Wi-Fi, 3G and DLNA connectivity.
Today,
Sony
has let slip more info on the clam shell designed S2, giving it its official name of "Tablet P."
The dual-screened device will have 512MB
RAM
, 4GB storage, 4G support, a Tegra 2 processor and weigh just 13 ounces.
Pricing is still unknown.