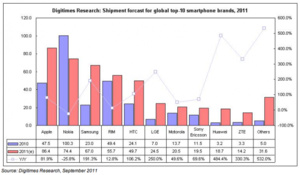 According to the Taiwanese daily
DigiTimes
,
Apple
will ship over 86 million iPhones by the end of the 2011.
DigiTimes, using supply chain checks, says the company will ship 86.4 million phones, up 81.9 percent year-over-year (YoY).
Analyst Luke Lin does say, however, that other companies are growing shipments at a much quicker pace, including Huawei at 484 percent YoY, ZTE at 330 percent YoY,
LG
at 250 percent and
Samsung
at 191 percent YoY.
Nokia
was the big loser of the year, falling from 100 million to 74.4 million.