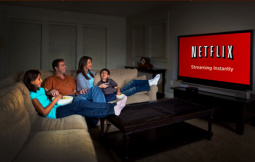 Earlier today, there was considerable outrage when Netflix began enforcing their policy on concurrent video streams, months after changing their ToS, making it impossible for multiple users to stream movies or TV shows at the same time if they are using the same account.
While the move would of course cut down on groups of people pooling together to use one account, there was outrage from families who legitimately have two people who enjoying
streaming
films, sometimes at the same moment.
Reads the ToS:
Personal Computer Requirements and Device Limitations: To enjoy watching instantly via your personal computer, your equipment must satisfy certain system requirements. Click here to view the various system requirements. To see partners who offer Netflix ready devices you may use to access our service, click here. YOU MAY INSTANTLY WATCH ON UP TO SIX UNIQUE AUTHORIZED NETFLIX READY DEVICES. YOU WILL BE ALLOWED TO INSTANTLY WATCH SIMULTANEOUSLY ON ONLY ONE SUCH DEVICE AT ANY GIVEN TIME. For certain membership plans in the United States, you may instantly watch simultaneously on more than one Netflix ready device within your household. Click here to view the number of devices on which you may simultaneously view movies & TV shows that are associated with your plan. The number of devices and concurrent streams may change without notice to you. For certain limited membership plans in the United States, your available Netflix ready device may be limited to personal computers.
This afternoon, however, Netflix's VP of Communication, Steve Swasey responded to
TC
and said "the restrictions happened in error and the company is not actively blocking concurrent video streams."
That being said, the ToS, with the wording above, has not been changed.