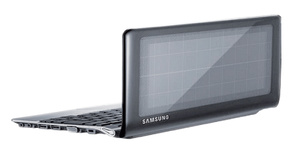 Samsung
has launched a solar-powered netbook, aimed at the African market.
The NC215S is now available in Kenya, and the target market is the hundreds of thousands of consumers that are not connected to the national power grid.
Furthermore, the device is aimed at the thousands of consumers who are connected, but have sporadic outages.
The device will cost 35000 Kenyan shillings ($370 USD) and gets up to 15 hours of battery life.
Says Samsung:
With Netbook NC 215S Samsung is demonstrating its capacity to bring to the consumers technology that satisfies their needs and takes care of the environment.
Weighing in at just 2.8 pounds, the entire design is "slim" including the solar panel on the top.
Samsung says the netbook will launch in U.S., Russia, Europe and South Korea, as well, later this month.